Wan Rock is a giant rock that rests deep in the wild of Ambodia. But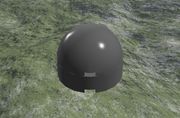 don't let its looks fool you, it serves as a critical compass for some explorers and adventurers down in those parts.
It is located in the middle of the Tatola Mountains.
Behind the Scenes
Edit
It was named after The Ambush Games Host Master_Kenobi-Wan
Ad blocker interference detected!
Wikia is a free-to-use site that makes money from advertising. We have a modified experience for viewers using ad blockers

Wikia is not accessible if you've made further modifications. Remove the custom ad blocker rule(s) and the page will load as expected.