Trolls are large creatures that live on Ambodia. They have bad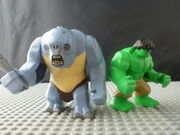 tempers and usually end up fighting against heroes. They sometimes work alongside with Goblins.
Appearances
Edit
This table contains all the Quest in which Trolls made an appearance either visually or just mentioned. 
Ad blocker interference detected!
Wikia is a free-to-use site that makes money from advertising. We have a modified experience for viewers using ad blockers

Wikia is not accessible if you've made further modifications. Remove the custom ad blocker rule(s) and the page will load as expected.