Spiders are creatures that live in Ambodia. They usually reside in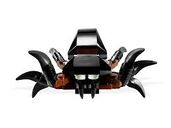 Wolfara Forest
. Their sizes can range from 1 inch to larger than a person. They are mostly hostile and feared in the world of Ambodia. 
Giant Spides
Edit
Gaint Spiders were created by accident during an experiment with Dark Magic on the top of Red Mountain in Wolfara Forest by the Dark sorcerer Mûro-dor. 
He accidently created Venom-web and his larger female mate and thus started a never ending line of Giant Spider off-springs that would soon roam the lands of Ambodia. 
This all happened in 2357 during the First Age (Timeline)
Qeust Appearances

Edit
| Quest  | Number | Host  | Use |
| --- | --- | --- | --- |
| The Book of Dark Spells | 3 or 4 | Ivar | Enemy |
| | | | |
Other Appearances
Edit
Spiders and Giant Spiders also appear in the Ivar's book "An Ambodian Adventure: A Firewing's Tale" and play a large part in the last parts of the book. 
Ad blocker interference detected!
Wikia is a free-to-use site that makes money from advertising. We have a modified experience for viewers using ad blockers

Wikia is not accessible if you've made further modifications. Remove the custom ad blocker rule(s) and the page will load as expected.