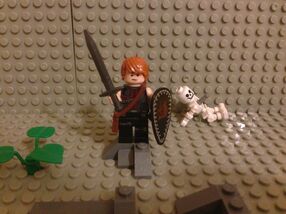 NAME: Kerk Acksedge
RACE: Human
CLASS: Soldier
LEVEL: 1
HEALTH: 22
POWER: 5
GOLD: 145
WEAPONS: A sword and shield
ITEMS: Birthday cake, party streamers, medal, an apple

DESCREPTION: Kerk Acksedge is a loyal soldier who's most trusted ally is logic. Kerk always puts the mission first and will do whatever it takes to accomplish it. He is still pretty laid back and does have a good sense of humor, though. His prefered weapon is his sword which he calls Drillspike.
Ad blocker interference detected!
Wikia is a free-to-use site that makes money from advertising. We have a modified experience for viewers using ad blockers

Wikia is not accessible if you've made further modifications. Remove the custom ad blocker rule(s) and the page will load as expected.