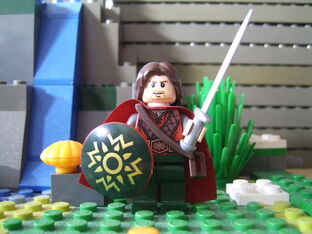 NAME: Ivar Firewing
RACE: Human
CLASS: Soldier
LEVEL: 1

HEALTH: 30
POWER: 12
GOLD: 90
WEAPONS: Sword, Shield
ITEMS: 
| Item | Use | Earned |
| --- | --- | --- |
| Kobus The Owl | Increases power by 2 | Bought |
| 3 Party Streamers | Takes away 1 health from an enemy | Quest Completion |
| 1 Piece of Birthday Cake | Heals 3 health | Quest Completion |
| 1 Honorary Medal | To show off.. | Quest Completion |
HOME EREA: 
Raver Lake
 (Named after Ivar, the player)
HOMETOWN: Lakeside
AGE: 19 Years Old
DESCRIPTION: Ivar is a real adventurer and a kind spirit. He enjoys going from place to place and facing the wilderness. Though he was raised in a small village, Ivar is from a Royal bloodline broken long ago. Ivar is the only one of his village remaining after a devastating attack by Goblin Riders who burned everything down and killed everyone, including Ivar's family. He managed to escape to the safety of Peenda City and has been adventuring ever on. 
BOOK: "An Ambodian Adventure: A Firewing's Tale" by Ivar Firewing. In this book Ivar writes down all of his encounters and adventures in the world of Ambodia. If all goes well and Ivar is in the mood he might write a second and maybe even a third book. 
| Name | Member | Birth | Time of Death |
| --- | --- | --- | --- |
| Ivar Firewing | Son of Sven And Ilse Firewing | 9 November, 4480 | [Not Available]  |
| Sven Firewing | Father of Ivar Firewing | 21 Januari, 4453 | 13 April, 4500 (47 Years Old) |
| Ilse Firewing | Mother of Ivar Firewing | March 4, 4455 | 13 April, 4500 (45 Years Old) |
Quest Log
Edit
All quests Ivar (the player) has participated in: 
All quests Ivar Firewing (the character) has participated and/or appeared in: 
Ivar Firewing consists of mostly LOTR Minifigure parts. This wasn't done intentional. He consists of: 
- Aragorn's hair piece
- Indiana Jones's face
- A red cape (He got a double one in the Helm's Deep set)
- Pirate Zombie's sword holder from POTC Captain's Cabin Set. 
- Gimli's body
- Theodon's shield
- A sword from Helm's Deep throne room 
- Professor Lupin's legs from Harry Potter and The Prisoner of Azkaban (Lupin's Class Set and Shrieking Shack Set)
He also appears without cape several times. 
Soundtrack 
Edit
Over Hill - The Hobbit An Unexpected Journey - Howard Shore
The Adventure Begins - The Hobbit An Unexpected Journey - Howard Shore
Ivar Firewing's Theme: (this theme reflects all about Ivar, his innonce, his loss of it and his enjoyment of adventure)

Ivar's Adventure; This track reflects on Ivar Firewing's early days of adventuring.