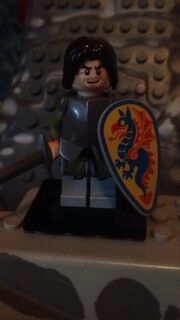 Name:
 Ike Delaron
Class: Warrior
Level: 1
Race: Human 
Player: Slime
Description: While Ike was just a mere baby, his village was attacked by an enemy clan, leaving the only survivors to be Ike and his badly wounded mother. With the last amount of will and strength left in his mother, Ike was brought to a nearby village ruled by noble warriors. As Ike's mother was walking into the village she was shot by a mysterious poisoned arrow which brought upon her death. In her last dying breath she handed her son to the village's wise leader and said "His name *gasp* is Ike, Ike Delaron. Please take care of him." Raised to be a noble knight Ike now searches under every stone possible for answers on his family's death... and he wants them now!
Health: 58
Physical attack: 12
Physical defense: 10
Magical attack: 0
Magical defense: 0
Energy: 100
Attack distance: Short
Weapons: Basic sword
Gold: 100
Items: 
Spells: None
Abilities: None
Quests: None
Ad blocker interference detected!
Wikia is a free-to-use site that makes money from advertising. We have a modified experience for viewers using ad blockers

Wikia is not accessible if you've made further modifications. Remove the custom ad blocker rule(s) and the page will load as expected.