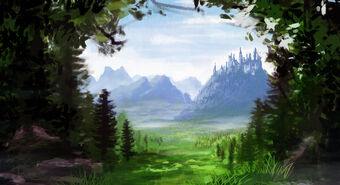 The Forest of Gánderhos 
is a large green forest located at the edge of the Emdlán Plains in the Southern region of 
Ambodia
 named ???.  
The forest are known for being traveller friendly as mostly prey wildlife lives here instead of predators. The forest is surrounded by two large mountains that form the end (or beginning, depanding on your point of view) of the Tatola Mountains. This gives the appearance of the forest being located in some sort of kilometer wide crater. 
The edge of the forest has large cliffs that lead down to The Great Sea. Upon the edge of these cliffs The Hill of Mar-Guldar is located. An ancient fortress used as a home until his death was created by Hargo The Dark One on top of the large lonely hill. 
In forest is located in the far South-East in the world of Ambodia. This explains why the forest borders with large cliffs on The Great Sea. 
The forest is surrounded on the West and East side by the tail of the mountain group known as the Tatola Mountains. The mountains themselves get lower the further you venture into the forest towards the large cliffs. 
Infront of the Forest lay the Emdlán Plains that are part of the Western part of Ferisius.
Gánderhos Forest is part of the Ferisious Province. 
Appearance

Edit
The Forest appears kind and majestic and it rightfully is so. In it there are no villages or cities located. Nor even tribes. It is all wildlife. Travellers can find a safe haven here for the Forest are only inhabitat by prey animals. Although there have been reports of Dragon sightings. 
The forest at first glance appears to be a crater, but it not. The Mountains on the west and East side of the forest make it appear this way as they made the forest grow in a straight line. 
The forest has the colors of light and darkgreen. Even during fall the forest stays Green. This believed to have been done by Wizards and Witches when they first bordered the lands of Ambodia and tried out their newfound Magic abilities. 
The entire forest is of the same height level with trees towering above a person for atleast several feet. The forest, being the same height in skyline, makes the Hill of Mar-Guldar extremely visible afor it towers above everything else on a large hill located at the edge of the forest build upon the cliffs that lead to The Great Sea. 
Mar-Guldar
Edit