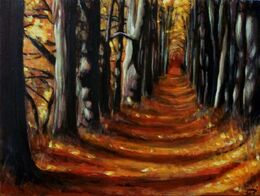 Backlonia Forest is a gigantic autumn themed forest in the eastern side of Ambodia
It houses a great deal of creatures like most forests except for the Werewolf species because they couldn't survive in the enviroment for unknown reasons. 
Backlonia Forest is located in the eastern side of Ambodia and borders on the Eastern Desert. That is a giant road called the 'King's Passage' that starts at the gates of Iverar City and cover the entire journey to Backlonia Forest. The path continues within the forest itself and end at the foot of the desert. 
Backlonia is the biggest forest in all of Ambodia. 
Enviroment
Edit
The enviroment of Backlonia is fantastic. It has great tall trees leveling over the forest floor that is covered and any kind of plant or bush there is. The forest itself is Autumn themed. This means the forest leaves are never green, always brown and orange and give a beautiful effect to the overall look of the forest it self. 
As noted above every kind of creature lives in these woods because it is perfectly suitable for wildlive. Also Humanoid creatures live in these parts, but not in big cities or village. Mostly in solitude or just passing by as travellers.
The Dark Ones
Edit
Unbeknownst to the world of Ambodia, after The Dark Being War, two survivors found a safe haven in Backlonia Forest. These were Bogare the Dark One and Hargo The Dark One. They never met eachother and are oblivious to eachother's survival. Hargo didn't stay long in the forest as he decided to travel to the hill of Mar-Guldar while Bogare stayed in the forest until where eventually found Lord Viroff. 
It is unknown if Bogare still remains in these woods or has died long ago.